There's much to celebrate about Norma Jean Wright's career in pop and dance music. With numerous accomplishments highlighting her professional career, this elegant and divinely voiced singer and songwriter exemplifies the very best the genre has to offer.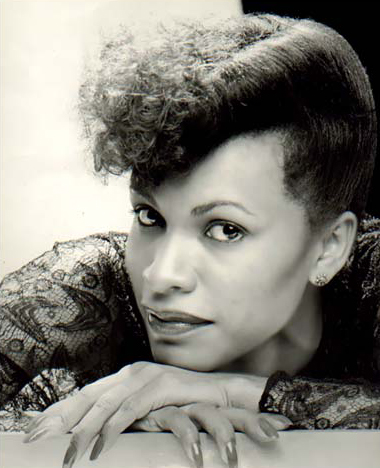 Born in Tennesee, and raised in Ohio, she moved to New York City, in 1976 and soon became a key member of the seminal group Chic, She was "smack dab" in the center of the disco explosion, and her powerful voice glided across the infectious beats of producers and fellow group members Nile Rodgers and Bernard Edwards and helped catapult the groups 1977 debut Album "CHIC" and it's single "Dance, Dance, Dance" to the Top 10 of Billboard's pop chart and both single and album garnered gold. The second single, "Everybody Dance," became a huge club hit, on the dance floor. "The chemistry between Bernard, Nile and [drummer] Tony Thompson was tight. There was something special about them as a unit; it was magical," says Ms. Wright in the book by James Arena, First Ladies of Disco (2013, McFarland). "Sonically, it was a melting pot of sorts, with Bernard's background in funk and R&B, Nile's classical and rock training and Tony's studies in jazz," she added.
So exciting was this talented performer that Rodgers and Edwards produced a solo album for the singer in 1978 called Norma Jean. The set yielded a Top 10 dance chart hit with the single "Saturday". In the '80s, Norma Jean continued to record hot dance music for major labels, including MCA Records ("Shot In The Dark") ("Every Bit Of This Love") and Mirage/Atlantic ("Love Attack").
In addition to her lofty success on the disco circuit, Norma Jean has been a sought-after session singer. She's worked with the best in the business, lending her voice to recordings by Madonna, Luther Vandross, Sister Sledge and Aretha Franklin, among many others. She's also been a well-regarded back-up singer, performing on the road with Freddie Jackson and Chaka Khan.
Having a passion, not only for singing but also songwriting, with Keni Burke she co-wrote, the classic R&B, song "Rising To The Top", and it's been recorded and sampled by Doug E. Fresh, Mary J Blige, LL Cool J, and Nas.
In 1992 Norma teamed up with former Chic keyboardist and producer/songwriter, Raymond Jones . The duo, formed the group "State of Art", and signed with Spike Lee's record label, 40 Acres and a Mule Musicworks. Their collaboration, spawned State of Art's critically
acclaimed album, "Community", released on Columbia Records.
By 1996, Luci Martin and Norma Jean re-emerged to co-write and record new single, "Let's Bounce" for Japan's artist GTS, and soon after they started touring again.
In the twenty-first century, Norma Jean and Luci Martin reunited with fellow Chic member Alfa Anderson, and they've been performing their hits for enthusiastic audiences worldwide. They've also recorded some new material.
After appearing in the first live performance of the First Ladies of Disco Show (inspired by the book), an AIDS benefit concert in Palm Springs, Norma joined the ensemble in 2017, and currently shares the stage with legendary singers Martha Wash and Linda Clifford.
| | | |
| --- | --- | --- |
| Norma in her early years with Red Top & The Topettes (The Topettes included Norma, her sister Beverly, and her friend Moncella "Sugar" Young.) This experience acted as a catalyst to Norma aspiring to pursue a career as a singer. | Luci Martin and Norma Jean Wright working with Soul/Rock Band ESP before being enlisted by Chic. | Norma hanging with the spinners after several performances with them. |
| | | |
| | | |